ISA Award Recipients
On March 20, 2012, ISA presented four prestigious awards during the 2012 Annual Business Retreat in Scottsdale, AZ.  The awards presented were: ISA's Business of the Year; ISA's Thought Leadership Award; ISA's Outstanding Contribution Award; and Broomfield Award -"The Spirit of ISA".
Click here for more detailed information about this year's award recipients, as well as individual/companies who have been honored in the past.
To view the press release(s), click here.
2012 ISA Award Recipients
Pictured from left to right:  
Elaine Biech, Pam Schmidt (ISA Executive Director), Lisa Fagan, Kevin Cope, and Patricia McLagan.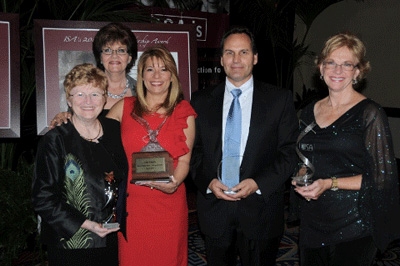 2004 ASTD Volunteer Staff Award
2001 ISA Spirit Award
1995 Wisconsin Women Entrepreneur's Mentor Award